Gameynix.com might contain affiliate links from amazon.com, so that we might earn referral commissions for each qualified purchases. It helps us to keep this website active and motivates us to make more valuable contents for visitors.
The tactical team-based shooter Valorant, created by Riot Games, has won over gamers all over the world with its furious gameplay and varied cast of Agents. Each Agent has special skills that have a big impact on how a match turns out. Certain Agents excel on the map Bind, which has narrow passageways, teleporters, and a mixture of long- and short-range battles. The 10 Valorant Agents that excel on Bind will be discussed in this article. You can significantly outplay your rivals if you comprehend their specialties and know how to use them on this particular map.
Mastering Bind: 10 Valorant Agents That Excel on the Map
Jett's suppleness and agility make her a perfect match for Bind. Her quick movements allow for aggressive plays and surprise flanks, and she can climb to high positions. To help your squad move forward, use her Cloudburst ability to distract opponents or provide cover for site entries.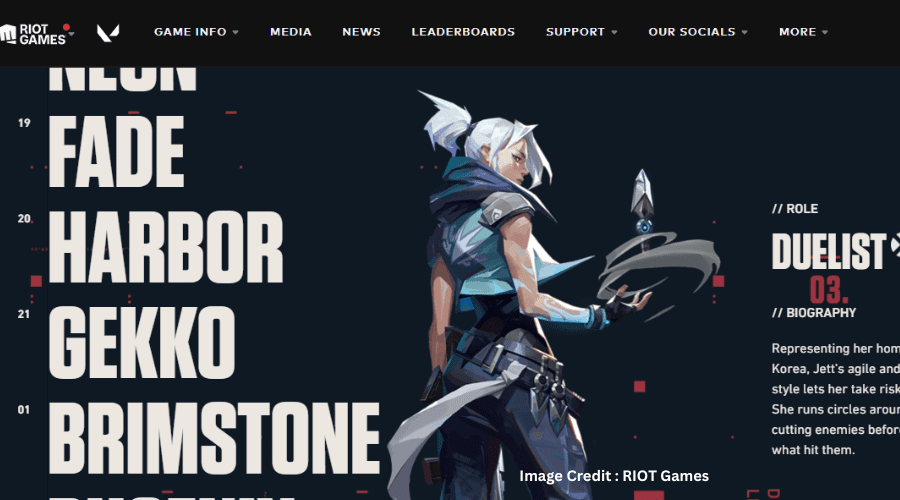 2) Raze: The Explosive Expert
Raze's explosive skills shine most brightly in the close-quarters combat featured throughout Bind. Clear obstructions with her Blast Pack, and lure foes out of hiding. Her Paint Shells can block off entrances or entice burglars away from cover, allowing your team to gain the initiative.
3) Omen: The Elusive Shadow
Omen is a strong Agent on Bind thanks to his teleportation skills. He gives you tremendous map control with his From the Shadows ultimate, which you may use to ambush opponents and establish profitable flanking opportunities. Use his Dark Cover ability to your team's advantage to obstruct sightlines and reorganise the battlefield.
4) Phoenix: The Self-Sustainer
Phoenix is a great candidate for Bind because of his aggressive playstyle and ability to maintain himself. When you're within its radius, use his Blaze ability to block off spaces or heal yourself. His Curveball has the ability to blind opponents, providing you an advantage in combat and creating possibilities for productive battles.
5) Cypher: The Information Gatherer
On every map, even Bind, Cypher's observation and information gathering skills are vital. He cleverly placed his spy cameras to gather vital intelligence on enemy positions and movements. Use the Trapwire skill to surprise opponents and stall their pushes to give your team a decisive advantage.
6) Sova: The Master of Reconnaissance
Sova is a fantastic choice for Bind because of his recon skills. Use his Recon Bolt to disclose enemy positions so that you can make wise decisions and have sophisticated map management. His Shock Dart can also dispel frequent hiding places or weaken enemies before an engagement.
7) Sage: The Healer and Defender
Sage is an essential member of Bind thanks to her defensive and healing powers. During difficult firefights, use her Healing Orb to sustain yourself and your comrades. Her Barrier Orb's ability to seal off chokepoints and establish momentary safe zones enables tactical placement and successful defensive plays.
8) Killjoy: The Turret Specialist
Bind defence works well with Killjoy's equipment. Hold down areas and give early warning of enemy presence using her Alarmbot and Turret. Her Nanoswarm ability gives your squad a significant advantage in crucial situations by blocking bomb defusers or flushing foes out of hiding.
9) Brimstone: The Area Denial Expert
Brimstone is a strong option on Bind because of his capacity to control and deny places. Use his Incendiary to close up important entrances and stop opponents from moving forward. The Sky Smoke ability successfully manipulates the battlefield to your favour by establishing safe paths for rotations or obstructing opposing sightlines.
10) Breach: The Crowd Control Specialist
Breach is a crucial member of Bind because of his crowd control and area denial skills. Use his Fault Line talent to startle several adversaries and thwart their intentions. Clear obstacles using his Aftershock and Flashpoint powers so that your team can go forward and accomplish important goals.
Understanding Map Control and Strategies on Bind:
The correct Agents are essential, but so are an understanding of map control and the creation of successful tactics. By using shrewd gaming and well-organized collaboration, players can take advantage of the unique chances and difficulties that Bind offers.
Utilize Teleporters: Teleporters in Bind let you surprise your opponents and offer rapid rotations. Work together as a team to plan ambushes or execute surprise flanks that will surprise your adversaries.
Control the Showers: The central part of the map, Showers, is one of the most important areas to govern. It offers teleporters and access to numerous sites. When pushing or defending this region, use smokes, flashes, or traps to prevent access or gain an advantage.
Secure the Hookah: On Bind, the key location of hookah necessitates close quarters combat. To flush out defenders or stop opponents from planting the spike, use Agents with area denial skills like Raze's Paint Shells or Brimstone's Incendiary.
Play the Long Game: Long-distance engagements are available from Bind, particularly in regions like B Long and A Long. With their agility and recon skills, agents like Jett or Sova can thrive in these fields. Use smokes and flashes to obscure vision or to your advantage in combat.
Coordinate Retakes: It can be difficult to retake sites because of the way the map is designed. Work together as a team to strategically place crossfires, activate abilities, and reclaim locations. Use the skills of Agents like Killjoy or Cypher to obtain important data and undermine adversary defences.
Conclusion:
The map of Bind in Valorant must be mastered, and this takes both comprehension of Agent capabilities and the creation of efficient tactics. The ten Agents mentioned above each have special playstyles and tools that can be used to dominate on Bind. Always keep in mind that success depends on adaptation, communication, and versatility. To determine what will work best for you and your team, try out several team structures and operating methods.
You may gain a huge advantage on Bind by utilising the advantages of these Agents and putting intelligent map control techniques into practise. To win, refine your aim, become familiar with the map's details, and work with your teammates. These 10 Valorous Agents will aid you in paving the way to success on Bind, whether you're defending sites, carrying out deft pushes, or holding onto strategic locations. Wishing you luck and success on the battlefield with your tactical mastery!