Gameynix.com might contain affiliate links from amazon.com, so that we might earn referral commissions for each qualified purchases. It helps us to keep this website active and motivates us to make more valuable contents for visitors.
Hey there, fellow gamers! We all know that gaming is awesome, right? But have you ever considered the toll it might be taking on your body? That's where ergonomics comes into play. Today, we're diving into the world of comfortable gaming setups and how a simple addition like a gaming footrest can make a world of difference. Let's level up your gaming experience by understanding why ergonomics matters and how a gaming footrest can be your secret weapon to ultimate comfort.
Understanding the Significance of Ergonomics in Gaming
Picture this: you're in the middle of an intense gaming session, completely engrossed in the virtual world. But after a few hours, you start feeling the strain – your back hurts, your neck is stiff, and your posture is more slouched than a sleepy sloth. This is where ergonomics swoops in to save the day.
What is Ergonomics and Why Does It Matter?
Ergonomics is all about designing our environment to fit our bodies, not the other way around. When it comes to gaming, it means creating a setup that supports our bodies and keeps us comfortable even during marathon sessions. Ergonomics in gaming can:
Prevent discomfort and pain
Improve posture and spinal health
Enhance gameplay performance
The Toll of Poor Ergonomics
Let's face it, gaming for hours without the right setup can lead to aches, pains, and strain. Common issues include:
Back Pain: Prolonged sitting without proper support can strain your lower back.
Neck Strain: Incorrect screen height can lead to neck discomfort.
Carpal Tunnel: Poor wrist positioning while gaming can result in wrist pain.
Introducing the Gaming Footrest
Alright, time to introduce our hero: the gaming footrest. You might be wondering, "Why do I need a footrest? Isn't that just for fancy offices?" Nope, not anymore! A gaming footrest is like a cozy hammock for your feet.
What is a Gaming Footrest?
A gaming footrest is a specially designed accessory that offers a range of benefits, including:
Supporting proper leg positioning
Encouraging better blood circulation
Reducing strain on lower back and legs
How Does a Gaming Footrest Work?
A gaming footrest keeps your feet slightly elevated, promoting a more comfortable sitting position. This can:
Prevent dangling feet, reducing pressure on the thighs
Encourage a natural angle for your legs
Distribute weight evenly to prevent numbness and discomfort
The Benefits of Using a Gaming Footrest
So, what's the big deal about using a gaming footrest? Well, let's break it down:
Enhanced Comfort and Reduced Fatigue
With a footrest, you're not dangling your feet or straining to find a comfortable position. It's like having a mini resting place for your legs, making those long gaming sessions a breeze. Imagine sitting back, relaxed, and fully focused on your game without constantly readjusting your position.
Improved Blood Circulation
You know that annoying feeling when your feet fall asleep? A footrest can help prevent that by promoting better blood flow, keeping your feet and legs awake and ready for action.
Better Posture, Less Strain
Remember the slouched posture we talked about earlier? A gaming footrest encourages you to sit in a way that's better for your spine, neck, and overall posture. Goodbye, aches and pains! When your feet are comfortably supported, it's easier to maintain a healthy alignment for your whole body.
Choosing the Right Gaming Footrest
Now that we've got you excited about footrests, how do you pick the perfect one for you? Here are a few things to keep in mind:
Factors to Consider When Choosing a Gaming Footrest
| Factor | Considerations |
| --- | --- |
| Adjustability | Look for height and angle adjustment for a customized fit |
| Materials | Opt for durable materials that can withstand gaming vigor |
| Compatibility | Ensure the footrest works well with your gaming setup |
Reading User Reviews
Before making a purchase, read user reviews to gather insights into real-world experiences. Pay attention to factors like comfort, durability, and ease of adjustment. What works well for one gamer might not be the best fit for another.
Tips for Incorporating a Gaming Footrest into Your Setup
Okay, so you've got your hands on a gaming footrest. Now what? Let's make sure you're using it to its full potential:
Placement Is Key
Position your footrest so your feet are comfortably supported. Not too high, not too low – just right! The goal is to create a natural angle for your legs without straining.
Adjust for Comfort
Tweak the height and angle until you find the sweet spot. Your legs should be at a comfortable angle, not dangling or squished. It might take a bit of trial and error, but once you find the perfect setup, you'll notice the difference.
Play Around with Position
Experiment with footrest placement to find what works best for you. Everyone's setup is unique, so make it your own. Some gamers prefer their footrest slightly angled, while others like it parallel to the ground. Find what feels most comfortable during your gaming sessions.
Testimonials and Reviews
Don't just take our word for it – gamers everywhere are raving about the wonders of gaming footrests. Let's hear from a few:
"I used to get terrible lower back pain after long gaming sessions. Ever since I got a gaming footrest, my comfort level has skyrocketed!" – SarahGamer123
"I was skeptical at first, but using a footrest has made a world of difference in how I sit while gaming. It's like a secret weapon for staying comfy." – ProGamer99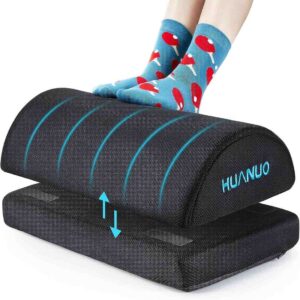 Additional Ergonomic Enhancements for Your Gaming Setup
While a gaming footrest is a fantastic addition, don't stop there! Consider these other ergonomic upgrades to complete your gaming haven:
Ergonomic Chairs
Invest in a chair designed for long hours of gaming. Look for features like lumbar support, adjustable armrests, and a comfortable cushion. Your back will thank you later.
Adjustable Desks
A desk that can be tailored to your height and needs is a game-changer. Whether you're playing, working, or both, an adjustable desk allows you to find the perfect setup.
Wrist Supports and Mousepads
These accessories can help prevent wrist strain during intense gameplay. Look for gel-filled wrist supports and ergonomic mousepads designed to support your wrist's natural position.
Conclusion
There you have it, gamers! Ergonomics isn't just a fancy word; it's your ticket to a healthier and more enjoyable gaming experience. We've learned how a gaming footrest can transform the way you play by boosting comfort and reducing strain. So, go ahead, make those gaming marathons even more epic with the power of ergonomics on your side. Your body will thank you, and your opponents won't stand a chance!
Remember, a gaming footrest is just the beginning. Combine it with other ergonomic goodies for the ultimate gaming setup. Until next time, happy gaming and stay comfortable!
Also Check Top 10 reasons why gamers should consider using a footrest.