Gameynix.com might contain affiliate links from amazon.com, so that we might earn referral commissions for each qualified purchases. It helps us to keep this website active and motivates us to make more valuable contents for visitors.
In this blog Let's discuss "Why Artisan Mousepads Are Best: The Ultimate Guide to Sizes, Cleaning, Features"
Are you tired of using ordinary mouse pads? If so, you don't need to anymore. Today, I am going to introduce you about one of the most popular mousepad brand Artisan Mousepads. The Artisan mousepads are trending right now. These mousepads are specially designed with constant innovation & Quality to provide high performance. So whether your are seasoned professional or newbie gamer, their pads are known to elevate the game for everyone.
About Artisan ?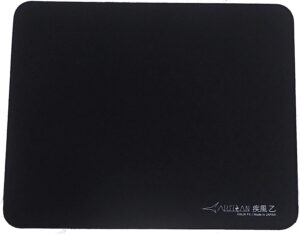 Artisan is a Japanese mousepad brand. They make amazing game pads which gets equal love and attention from all type of gaming and non gaming users. So let's dive in to unveil the secrets of their high performance mousepads in this blog post.
Understanding Artisan Mousepads
What Makes Artisan Mouse Pads Unique
Artisan mousepads are better than average mouse pads available in the market in many aspects. They put exceptional innovation and design to craft these masterpiece. The most important feature I personally can think of is their Knitted Cloth ( polyester ) surface. This revolutionary surface material and design offers best control on mouse movements. It increases the precision by 60% in initial movements and quick operability. you will never experience stick surface movement issues while using Ninja Fx or hein artisan series. So personally I think Artisan mousepads solve these slow response drawbacks through the high class material for easy glide. This is one the most prominent reason for their popularity in 2023 and beyond.
The other most striking additional feature Artisan offers is different hardness levels. So buyers get multiple options to choose ranging from super soft, soft and mid range levels as per their taste.
Benefits of using artisan mousepads for gaming or work
Let's take a look on the few most important benefits of using artisan gaming mouse pad. We will take a closer look on how these pads enhance one's gaming or work performance level drastically.
The most attractive feature which excel Artisan from it's competitors is non slippery surface. Whether you are a full time intense gamer or you are working professional like a graphics designer. You will love the grip. They provide world class non slip sole which adheres with surface firmly. So you can easily avoid any unwanted slipping which can piss you off. It means you can say no to distractions, while using Artisan mouse pads.
Durability is another feature which makes these mousepads so appealing. Unlike most of mousepads, Artisan uses easy water washable material. It means you can easily keep your mousepads clean, which eventually boosts it's performance for longer durability.
Superior Tracking Surface
The Superior tracking surface of artisan mousepad provides competitive benefits, specially during battle royal games like fortnite. It promotes precise aim and movement of the character hence improves your over all performance. Also superior tacking surface, easily help graphics designer to draw accurate models like a breeze as well.
Multiple Hardness Level Options
Artisan mousepads comes in variety of hardness levels ( thickness level ). So you can easily choose 1 as per your taste and requirements while keeping the tracking surface same. Whether you a professional gamer or expert working professional artisan got you all covered. The above unique features ensures to elevate your overall performance on top for sure.
| | |
| --- | --- |
| Hardness Level | Thickness (mm) |
| XSoft | 4 |
| Soft | 3.5 |
| Mid | 3 |
Exploring Different Artisan Mousepad Sizes
 Importance of Choosing the Right Size
Choosing right size becomes very important when looking for a mousepad. As the size of your mousepad determines your overall performance. Choosing correct size helps to improve the overall mouse movements, precision and comfort. Also choosing correct size provides you ample of space to navigate around without restrictions.
Artisan mousepads sizes and advantages
Artisan mousepads offers wide range of sizes to pick. Let's see some of the available sizes and their advantages.
Small Size
The small size mousepads are ideal for the users who are limited in space, and looking for a compact yet optimal mousepads. The area of movement is less, hence it can also be suitable for gamers, who wants to improve their response time drastically with high precision levels.
Medium Size
The medium size mousepads are perfect for anyone, who is looking for a balanced approach in terms of space and quick movements. It provides a comfortable are for smooth gliding and precise mouse tracking.
Large Size
The Large Size mousepads are for passionate gamers, who wants large sweeping area for mouse movements. They don't need to restrict themselves in small pad areas. So It can be worth buying for pro gamers or graphics designers to optimize their performance.
| | | |
| --- | --- | --- |
| Size | Dimensions (Width x Length x Height) In Inches | Recommended Use |
| Small | 8.27″ x 9.45″ x 0.12″ | Compact setups, limited desk space |
| XL | 16.54″ x 19.29″ x 0.16″ | Generous space for gaming and work |
| XXL | 35.4″ x 15.75″ x 0.15″ | Immersive gaming experience, room for keyboard |
Note: The dimensions provided are approximate and may vary slightly depending on the specific model of the Artisan mousepad.
How to select the Ideal size
The perfect size while selecting an artisan mousepads depends on individual taste and requirements, let's discuss few of the most important things to consider during your selection :
The very first thing you should look for the space available on your gaming or work desk. I mean, you would never want other accessories to overlap with it. So first of all take a quick look of your table to determine the maximum size can be fitted easily.
Gaming or Work Requirements
In the 2nd step, think about your requirements. Are you a fast pace gamer with who needs large sweeping area ? Or Graphics designer who needs precise cursor on large mouse moving area? If this is the case, large size mousepad can be a good choice for you in order to achieve optimal performance. On the other hand if you are a gamer who needs quick and precise movements, a small size mousepad will be ideal for you.
Always take a note on your mouse sensitivity setting while selecting a mousepad, If you use high sensitivity mouse settings then large mousepads will be good for you for fluid movements. As you don't need to lift and reposition your mouse each time. otherwise you should order a small size for lower sensitivity settings.
Portability can be a major factor to consider, if you are frequent traveler. The small size mousepad can be a good option, because they are easy to carry and fits perfectly in laptop bags. So if you participate in gaming events frequently or go out for work majorly, you should go for small size artisan mousepads.
Maintaining and Cleaning Your Artisan Mousepad
 Significance of Regular Cleaning
Regular cleaning is essential in order to ensure the optimal performance of your mouse pads. As dust, dirt and oils can easily accumulate on mousepads over the time. These impurities can easily affect the overall performance of your mouse during gameplay. So in order to maintain the accuracy and breeze glide over your mousepads, cleaning them regular becomes crucial. By following good maintained cleaning practices, you can also ensure durability of your artisan mouse pads for long period of time.
Step-by-Step Instructions on Cleaning Different Types of Artisan Mousepads
For Cloth Mousepads:
You can easily follow the below steps to cloth your mousepads :
Unplug your mouse and remove any associated accessory from mousepad
Shake the mousepad to get away from loose dirt particles
Prepare a mixture of detergent and lukewarm water
Dip a soft cloth or sponge in that mixture
Gently swipe the mousepad using the cloth in circular motion
Put it to dry before reconnecting again
For Hard Surface Mousepads:
Disconnect your mouse and remove any accessory from mousepad
Use a soft cloth to wipe the surface and remove loose dust particles
If the dirts are stubborn, dip the cloth in small amount of isopropyl and gently scrub the mousepad to remove them.
Wipe the entire mousepad again with a dry clean cloth
Put the mousepad in open air for sometime to dry, before reconnecting again.
Useful Tips In Maintaining A Hygienic Artisan Mousepad
Let's take a look on some best practices you can take to maintain a hygienic mousepad for durability and optimal performance:
Try to clean your mousepad once in the month at least
Avoid drinking and eating near your mousepad to prevent spills
 Use a mousepad cover when not in use to avoid dirt accumulation
Avoid Harsh Cleaning Agent
Avoid using strong chemicals, bleach and detergents to protect mousepads from damages
Use mild detergents or solutions to clean artisan mousepads for best durable results
Keep artisan mousepad away from direct sunlight to avoid discoloring , when not in use.
These were few of my best advices on keeping the artisan mousepad clean and maintain it for long times.
Buying Guide: Top Factors To Consider While Buying Artisan Mousepads
Let's discuss the few of the key factors to keep in mind while buying an artisan mousepad:
The first factor is size of the mousepad. Artisan mousepads comes in various sizes ranging from small to XL. The size selection for you directly depends on your gaming need and desk space. Judge your gaming style, and make a buying decision accordingly to compact or large sizes.
The artisan mousepads models comes up in different types of materials such as plastic, cloth and hybrid. All the material affects the overall performance of the mouse in terms of speed, control and durability. so make sure to keep that in mind too while purchasing.
Thickness of a mousepad can be directly associated to hand cushioning. So thicker material mousepads can provide more comfort in long gaming sessions. Hence make sure to always keep in mind if you to do large gaming sessions or a streamer.
The 4th most important feature I will recommend to look is grip of mousepad. The better grip provides better control on intense mouse movement, and excellent aim tracking. So make sure to always buy an artisan mouse pad with non slippery bases.
If you like to do gaming in style, then Artisan mousepad equipped with RGB lightening can be worth considering option. It can make your overall gaming setup more personalized and attractive.
Here is the list of some top notch features which stands artisan mousepads ahead in the competition :
| | |
| --- | --- |
| Feature | Description |
| Non-Slip Surface | Artisan mousepads have a non-slip surface that ensures the mousepad stays firmly in place. |
| Customizable Hardness | Artisan offers different hardness options, allowing users to choose the level of firmness that suits their preferences. |
| Durability | Artisan mousepads are known for their durability, maintaining their performance and longevity over time. |
| Water Washable | Unlike traditional mousepads, Artisan's technology allows for water washability without compromising functionality. |
| Size Options | Artisan provides a range of sizes to cater to different user preferences and gaming setups. |
| Smooth Glide | Artisan mousepads offer a smooth glide, provides effortless and precise cursor movements. |
| Versatility | Artisan mousepads are suitable for various purposes, ranging from gaming, graphic design, and daily work. |
| High-Quality Materials | Artisan mousepads are made with high-performance quality materials, ensuring a premium user experience. |
| Enhanced Precision | The surface of Artisan mousepads enhances cursor precision, enabling accurate and responsive tracking. |
| Easy Maintenance | Artisan mousepads are easy to clean and maintain, allowing users to keep them in top-notch condition. |
So above are the few main reasons of immense popularity of artisan mousepads. These mousepads offers a top notch user experience ranging from materials, sizes and hardness level options. So if you are planning to get a new mousepad or want to upgrade your current one, The artisan can be your 1st choice.
Also check out why a gmaing footrest is important for cozy gaming in long hours session.